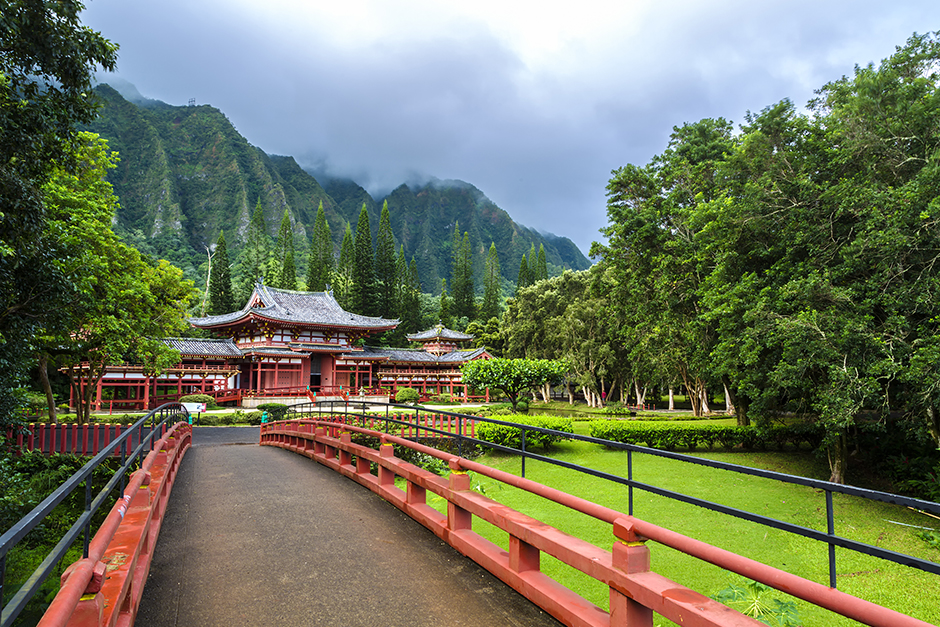 Diamond Head Beach Hotel: Our Top Picks for guests

The Byodo-In Temple
Valley of the Temples Memorial Park
Kahaluu, O'ahu, Hawaii.
The Byodo-In Temple is located at the foot of the Ko'olau Mountains in Valley of the Temples Memorial Park. It was established on June 7, 1968, to commemorate the 100 year anniversary of the first Japanese immigrants to Hawaii. The Byodo-In Temple in O'ahu is a smaller-scale replica of the over 950-year-old Byodo-in Temple, a United Nations World Heritage Site in Uji, Japan.
The Byodo-In Temple is a non-practicing Buddhist temple which welcomes people of all faiths to worship, meditate or simply appreciate its beauty. The temple grounds are often used for wedding ceremonies for Hawaiians or visitors from Japan.
The Temple grounds are a lushly landscaped paradise nestled in a cleft of the pali and are home to wild peacocks and hundreds of Japanese koi carp. The beautiful grounds include a large reflecting pond, meditation niches, and small waterfalls. Visitors describe this destination as beautiful, peaceful, and restful.
The TV series Hawaii Five-O and Magnum, P.I. featured several episodes where the temple is incorporated into the plot. The temple and its gardens also appeared in an episode of the ABC series Lost, "House of the Rising Sun" in season one as the home of Sun's father.
The Byodo-In Temple is a Hawaii State Landmark. When you visit the Byodo-In Temple, you are truly experiencing one of Hawaii's best kept secrets.
Nanakuli Beach and The Mermaid Caves, Oahu
Nanakuli is a small town and valley on Oahu's west shore, about 30 miles (48 km) northwest of Honolulu. It is the first town as you drive up Oahu's leeward coast. Nanakuli has a nice beach, known as Nanakuli Beach Park. The waves and currents are strong in the winter months, but in the summer it's usually calm and a favorite gathering spot among local residents, who barbecue and picnic here. Most of Nanakuli's residents live in the valley across from Farrington Highway, the town's main main road.
In the Hawaiian language, "nana kuli" means to "pretend to be deaf." It is an interesting story how the town got its name. Oahu's leeward coast is hot and dry, and the ancient Hawaiians knew it is tough to grow food here. Hawaiian custom dictates that one must offer food to passing travelers. So the ancient Hawaiians who lived here felt ashamed that they couldn't offer passing travelers any food since they hardly had any. Instead, they hid from passerby's to avoid having to be hospitable. In case they were seen anyway, they pretended to be deaf. So Nanakuli was known as the town full of deaf people.
There are many videos on YouTube of the actual caves, this one gives you a pretty good idea of what to expect. Please be careful around high tide or in rough weather conditions. Also ensure adequate footware as the lava rock here is particularly sharp.

Feeling brave, Maybe you'd enjoy Oahu from 13000ft Skydiving?
The North Shore Sky Diving Facility
Their Skydiving facility is the largest facility in all of Hawaii. They have a few open and comfortable areas for their guests to observe skydivers jumping while you wait. They have recently upgraded their video room, so you are able to view your purchased skydive video right after you jump.
The Staff is Ohana (family) they work together and after work they hang out together. You can often find staff/friends/family hanging out even when they are not working. Their goal is to create a friendly environment that skydivers can feel comfortable and enjoy every jump made at Skydive Hawaii®.
Directions
From Waikiki to Honolulu, take the H-1 West, then H-2 North toward Mililani and Wahiawa. When H-2 ends, keep going straight. When H-2 ends, don't bother looking for highway route signs; there are few and far between.